FI CH
Tuohi-Tikan Husaari
b. 23.07.1979 d. 1.3.1992
s. Nord Ch Scaramis Mocador d. CIB Tuohi-Tikan Tulitukka
breeder Anna-Leena & Pirkko Konttinen, owner Maud Fast
Holder of race track license
Husku in the Finnish database KoiraNet
Husku was my first dog. He came to us as four months old, and lived to almost 13 years old. He loved to run on the race track, but not so much in the show ring. He was a master jumper, my dad had to put an extension on the already high fence at our summer place.
Husku got a really bad intestinal infection when he was two years old, and lost almost all his coat, perhaps from the strong medications, perhaps from the chock his hole being went through. He was showed as a junior, but couldn't be showed again until he was almost four years old. He got his final CAC from Hasse Lehtinen, who wrote in the critique "great coat". It felt like a victory that already, and then the final CAC upon that, I was so happy that day!
When I moved to my own apartment was Husku already ten years old, and we decided he and his halfbrother Maxi would stay with my parents. Mum often told me how old Husku has became, but I never saw it. I lived not long from my childhood home, and visited them often. And every time I took him for walks he straightened his steps, added speed, and became a younger dog again. I think he missed me like I missed him.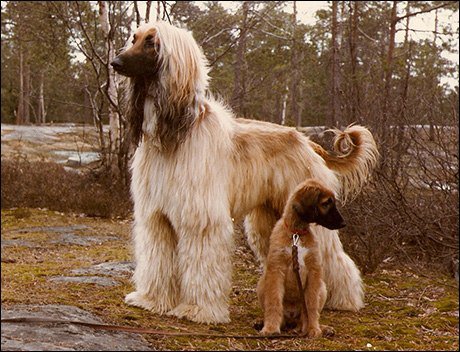 Husku and his little brother Maxi