Scented Counter Strike
b. 28.10.2015
s. CH Khaos Francisco d. CH Khaos Devenish
breeder Sari Laakso, owner Maud Fast
Holder of lure coursing license, CACIL class
Eyes checked clear 8/220, 2/2022
3x LC CAC
Niki in the Finnish database KoiraNet
Niki came to us four months after Ludde had passed away. I was totally heartbroken by Ludde's sudden illness and couldn't find a better way to heal my heart. Niki's mother is from a litter where I knew several of the littermates, and really liked their temperaments and coat qualities. Niki's mother is also half sister to Luddes mother, so I got a bit of his pedigree with her. It was little of a surprise at the time that there was a creme coloured puppy, but now, when i know more about colour genetics it's not strange at all, it only tells a lot about the parents genetics.
Niki was as younger not that fond of strange people touching her, and a show career was never something we aspired for. Maturing she came to like strange people, and have nowadays no problems with judges. Niki has made her career in lure coursing. Before she injured a toe she had taken part in four competitions, reaching CAC points in three of them, and only being one point from CAC in the fourth. After her injury she has only competed once, being forth out of twelve Afghans, but not reaching CAC points. Niki is SA-FA LC champion 2018 (BIF – 2) and SA-FA veteran champion 2021.
Niki is very much an Afghan hound in character and being. She is light as a feather when she moves, fast and agile. She is not very impressed with strangers, but those she likes get unconditioned love. She is stable, and hardly ever tells an other dog ugly words. When loose she's a whirlwind, and a very good hare to get the other dogs to move. She is smart, food driven and easy to motivate in training. She is the sweetest of dogs.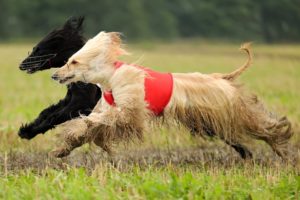 Pictures on this page: Mikael Fast, Kirsi Nousiainen, Mikael Fast, Ari Salmela, Soile Perjus, Kirsi Nousiainen, Ari Salmela, Ari Salmela, Soile Perjus, Kari Vieri.