SBIS, CIB, Nord, FI, SE, DK, NO, EE, BY CH FI JW -15, Nord JW-15, TD CH
Pramya Eyes On Me Please
b. 11.07.2014
s. CIB Karakush The Meow Factor d. CIB Pramya Blond All Over
breeder Annika Wirman-Fagerlund, owner Maud Fast
Holder of lure coursing license
Eyes checked clear 9/2018, 4/2021
Hips A/A, elbows 0/1, SP0, LTV0 10/2020
Heart ok with ultrasound 11/2021
Kalila in the Finnish Database KoiraNet
The decision to get a fourth Afghan hound was taken in late 2013. I scanned potential litters, and potential bitches, and decided to contact kennel Pramya. I have always admired Ester, Pramya Blond All Over, and there were several really nice puppies in her first litter. Ester was to be bred to Ralph, Karakush the Meow Factor, who at that time lived in the Netherlands. And the waiting began. The puppies were born i July, and in September we could pick up Kalila.
Kalila came like a whirlwind into our family. The boys, Ludde, Micke and Justin were not amused at all, but after some months Ludde gave in and became friend with her, and in the end also Micke and Justin. I think she was just a tad too active for Micke's and Justin's taste, always up for something, and often that something involved them, when they would rather have continued their naps, or done something grown up dogs do.
Kalila comes from a litter were almost all puppies went on to be very successful conformation dogs. Kalila has obtained a row of titles from the show scene, mostly handled by my self or her breeder Annika. Her greatest win was being Best In Show at the Swedish national specialty at the tender age of 2 years and 2 weeks old, beating the most winning Afghan hounds of that time in Sweden. Judge was John Bloor from the UK (here is a video from the BIS final). The next year she was Best bitch 2 at the Finnish national specialty show. At Crufts she placed fourth in a big open class in 2017, and that and the following years she reached several BIG placements, BIG wins and a BIS-4 handled by her breeder.
Kalila is a dog that has taught me a lot, but most of all she has taught me to be a dog trainer, and I'm forever grateful for that. Kalila is very smart, very sensitive and very food driven. The only limitation in her training has been me, not really keeping up. We took trick training to a for me totally new level, and Kalila went on to be the second Afghan hound in the world to complete the Do More With Your Dog Trick Dog Champion title. We have also trained some agility and a little obedience. Kalila loves doing tricks, and when she tore a toe ligament in 2019 it came very handy for her rehabilitation that she is so eager to train. Her physiotherapist told me what she wanted Kalila to do to strengthen her, and I taught her the exercises, and then we trained to strengthen her. She returned to the show ring in 2021 going BB-2 at the unofficial club show of the breed club, and really enjoyed herself.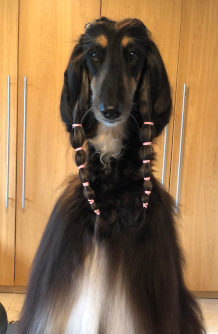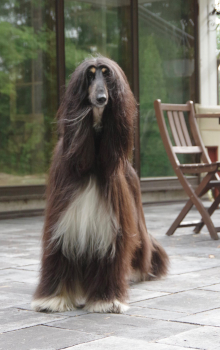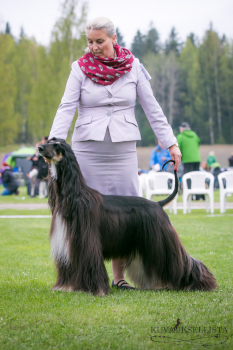 Pictures on this page: Maud Fast, Sofia Fast, Mikko Marttinen, Maud Fast, Maud Fast, Maud Fast, Mikko Marttinen, Sanna Hietaoja, Maud Fast, Mikko Marttinen